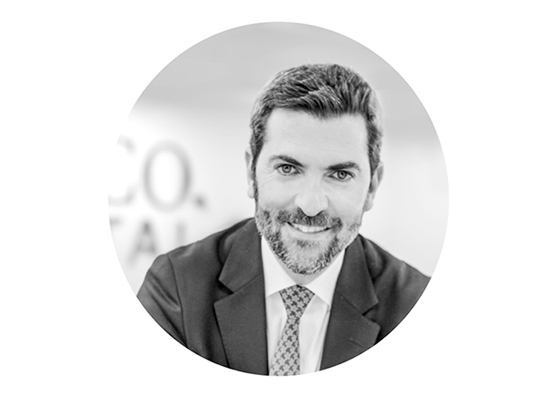 Santiago Molina
Managing Director Europe
BIOGRAPHY
As Managing Director for Europe, Santiago has overall responsibility for origination, operations and asset management in Europe.
Prior to joining Sunco, Santiago was Head of Structured Finance and M&A at FRV (Fotowatio Renewables Ventures) for the Middle East and Africa regions, where he developed key partnership with reputable IPPs, financing institutions and local developers.
From 2014 to 2016, he was Debt and Equity Senior Manager at Sunedison, covering EMEA transactions (origination, structuring and execution of project finance and M&A operations).
From 2007 to 2014, he worked at the Corporate Finance department of PwC, covering both M&A and debt raising activities in various transactions within the infrastructure sector.
He holds a Degree in Business Administration from Universidad Pontificia Comilllas (ICADE – E-2).
ACHIEVEMENTS
13 years experience in the infrastructure and renewable energy sector.
PPA award with Electric Networks of Armenia (ENA) for a 60MWp PV plant in Armenia. Leading role in the bid submission and financing process.
PPA award with the Water Authority of Jordan for a 67MWp solar project. Leading role in the bid submission and financing process.
Leading role in the coordination of various public auctions: Komombo – Egypt, SEC – Saudi Arabia, DEWA – UAE.
Responsible for the financing of 3 solar PV projects of 66.6 MWp each with DFIs (among others: IFC, EBRD, Finnfund, FMO and Proparco).
Acquisition of 2 projects (66.6MWp each) awarded under the Round 2 of the Direct Proposal's Scheme in Jordan.
Financial close of 478MW, distributed in 15 PV plants in UK.
478 MW private bilateral PPAs in the UK.
Advisory to an Spanish concessions and construction group on the sale of their toll roads portfolio in Mexico.
Advisory to a private company (managing several lines of Madrid underground) in its debt refinancing process.
Advisory to a private bidder on the tender process of Aguas del Ter – Llobregat, Spain.